Almost immediately after Annual Enrollment Period (AEP), Medicare Advantage (MA) enrollees have the option to reconsider their plan selection during Open Enrollment Period (OEP) from January 1 through March 31. For Medicare agents, OEP is more restrictive than AEP and should be addressed carefully. There are strict guidelines that dictate what you can and cannot do during this enrollment period. Here's what you need to know to stay compliant.
Who Can Make Changes During OEP
This enrollment opportunity is only available to those already enrolled in a Medicare Advantage plan. Only one change is allowed during this timeframe. The change is effective on the first of the following month after the switch.
What Changes Can Be Made
Current Medicare Advantage enrollees, who are already in a plan effective 1/1, can:
Switch to another Medicare Advantage plan, with or without drug coverage
Disenroll from a Medicare Advantage plan and return to Original Medicare, with or without a Part D prescription drug plan (PDP)
They cannot:
Switch from Original Medicare to a Medicare Advantage plan
Join a Part D Prescription Drug Plan if currently enrolled in Original Medicare
Switch from one stand-alone Part D Prescription Drug Plan to another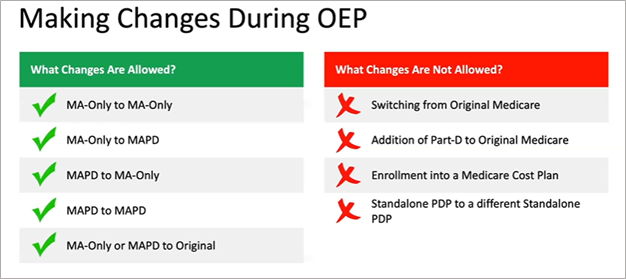 Marketing Guidelines for OEP
One of the biggest differences between AEP and OEP is the restrictions on marketing and communication for Medicare agents. CMS guidelines strictly prohibit marketing OEP to enrollees as an opportunity to change their plan.
Agents cannot:
Discuss OEP directly in advertisements or marketing strategies
Send unsolicited marketing materials during OEP
Knowingly target MA or Part D enrollees during OEP
Use OEP as an opportunity to make more sales
Contact previous enrollees who selected a new plan during AEP
Reference OEP in any educational materials
Agents can conduct marketing activities that focus on other enrollment periods:
Prospects turning 65 who have not yet enrolled in a plan
Dual eligible and Low Income Subsidy (LIS) enrollees who can change plans once each quarter during the first nine months of the year
5 Star Special Enrollments
Special enrollments due to a move or change in status
Agents can provide MA OEP information if requested by beneficiary
How to Code OEP Apps
OEP- Member has an MA/MAPD plan effective January 1. May change to another MA/MAPD plan.
OEP New- Individual must be enrolled in an MA Only, MA-PD and within the first 3 months of their Part A and Part B start date.
OEPI- Institutionalized- Moves into, resides in, or moves out of a Skilled Nursing Facility nursing facility, intermediate care facility for the mentally disabled, psychiatric hospital, rehabilitation hospital, Long Term Care hospital, or swing-bed hospital with an expecting stay of at least 90 days.
You Can Maintain Client Outreach and Stay Compliant
You have several options for outreach during OEP while staying compliant with CMS regulations. You should be reaching out to your clients, especially those newly enrolled to Medicare for the first time, to make sure they understand their new 2023 plans and see if they have any issues. Let them know you're available if they have any questions or need further assistance.
Remember, it should be your goal to contact your clients throughout the year to build an ongoing relationship. A client who has unanswered questions or is confused about their plan is far more likely to work with another agent in the future.
Do you need additional support? Western Asset Protection is here to help.
We provide the tools for your success.