The Centers for Medicare and Medicaid Services (CMS) has just released its Star Ratings for 2023 Medicare Advantage and Part D plans. This information comes out every fall prior to Medicare's Annual Open Enrollment period when enrollees are making decisions about their coverage for the following year. Higher star ratings can benefit both the member and the insurance carrier.
You can help your clients understand what these ratings mean and what significance they might have when choosing healthcare coverage.
What the 5-Star Rating System Means
CMS developed the 5-star rating system to help enrollees compare plan options in their area, based on quality and performance. The 5-star rating system is used by CMS to monitor plans to ensure that they meet Medicare's quality standards. They are updated every year from an audit of the carrier's previous audit findings. The higher the star rating, the better the plan performed.
5 stars: Excellent
4 stars: Above average
3 stars: Average
2 stars: Below average
1 star:  Poor
A strong star rating is good indicator of an insurance carrier with experience and stability. It shows the plan provides good customer service, has satisfied policy holders, is well managed and provides effective health care across a range of needs.
A 5-star plan is designated with a special symbol, which is a yellow triangle with a white star that has the number 5 inside of it.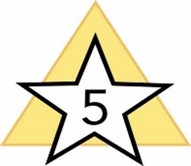 CMS rewards high performing plans with annual bonus payments. Plans use this extra revenue for additional benefits such as vision, hearing, or dental coverage. Because of this, plans with higher star ratings generally offer more benefits than lower rated plans.
A plan is considered below average if it is rated fewer than three stars for three consecutive years. CMS will flag these plans and alert its members to let them know their plan is performing below average. CMS can block new enrollees from joining a low performing plan until their ratings improve.
What Are the Criteria of the 5-Star Ratings?
CMS uses the same criteria for all plans to measure their quality and performance.
Quality and performance measures related to the plan or plan provider:
Customer service
Care coordination
Complaints about the plan
Getting needed care
Rating of health care quality
Members choosing to leave the plan
Getting appointments and care quickly
Quality and performance measures related to health services:
Breast cancer screening
Diabetes care
Rheumatoid arthritis management
Annual flu vaccine
Monitoring physical activity
Colorectal cancer screening
Getting needed prescription drugs
Medication adherence for cholesterol or diabetes medication
How Plans Improve Their Star Ratings with HRA's
CMS guidelines require Medicare Advantage plans to make a best effort to conduct a Health Risk Assessment (HRA) annually for all members. HRAs are a tool that helps plans collect information on their members health status and other related factors to address gaps in care and social risk factors. They are no longer used just for high-risk members. Member engagement and customer satisfaction are key components of CMS star ratings, as well as improved clinical outcomes and access to care and HRA's have become key in helping plans gain insight into how they can help improve member outcomes and at the same time improve their star ratings.
5-Star Special Enrollment Period
There is an added benefit for plans who are awarded five stars. CMS grants Medicare enrollees a 5-Star Special Enrollment Period (SEP) from December 8 through November 30. During this SEP enrollees may switch plans once to a 5-Star Medicare Advantage, 5-Star Medicare Cost Plan, or 5-Star Medicare Prescription Drug Plan available in their area. Medicare recipients who are in a low performing plan, or those whose circumstances have changed and need a plan that better suits their needs, can use this SEP to change plans. You can use Medicare's search tool to help your clients look for 5-star plans in their area.
There is More to Consider When Choosing a Plan
Star ratings should be just one of the factors to consider when helping a client find the right plan. Affordability and coverage are also important considerations. A 5-star plan is not necessarily more expensive since star ratings do not determine premiums. But a higher performing plan may not be the best choice if it doesn't have the right network of providers, or if it has higher out of pocket costs for frequently used benefits including prescription drugs.
As a trained and knowledgeable Medicare agent, you play a key role in helping your clients understand the Medicare 5-star rating system. You can help them weigh the importance of the ratings when making decisions about their health insurance coverage.
Need guidance or access to more carriers and plans? Contact Western Asset Protection.